NATIONAL SERVICE SCHEME
National Service Scheme [NSS] aims at the importance of democratic living and self-less service. The motto of NSS is "Not Me But You". The symbol of NSS is based on the Giant Rath (Chariot) of World famous Konark Sun Temple at Orissa. There are eight bars in the wheel representing 24 hours of the day, where the NSS volunteers should be lively, active, energetic and full of spirit.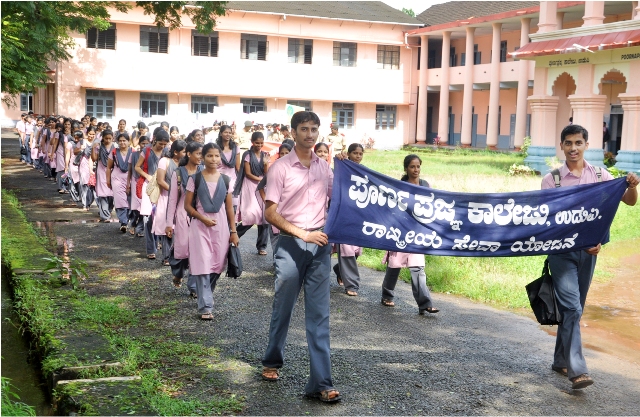 The main objectives of NSS are:
1.To understand community in which we work.
2.To understand ourselves in relation to the community
3.To understand the needs and problems of the community.
4.To develop social and civic responsibility.
5.To find practical solutions to individual and community problems.
6. To develop group living and sharing of responsibilities.
7.To acquire leadership qualities and democratic values.
8.To develop the ability to meet emergencies and national disasters.
9.To practise the sense of national integration and social harmony
An institution will be allotted NSS units according to the strength of the students, with a maximum of 100 students in each unit. These units will have Principal of the College as the Director, a teaching staff (who should be an organizer, educator, co-ordinator, supervisor, administrator, a public-relation person) as NSS Programme Officer and faculty of the college as advisory committee members.
There are two units of NSS in the College, with a total strength of 200.Mr.Manjunatha Karaba (Lecturer in Kannada) and Mrs.Sumana Rajendra (Lecturer in English) are the Programme Officers.